Description
The city of Waterbury boasts a rich history in high school boys basketball –
ranging from Crosby High's achievements in national tournaments in the early
1920s, through a storied period centered at the City Armory, and a growth into
more modern times culminating with Sacred Heart's recent dominance before the school closed in 2021.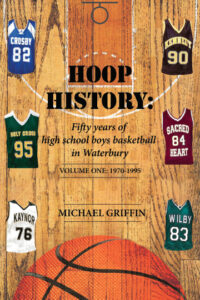 The 1970s marked a period of transition in the city's hoops history, with Holy Cross beginning its basketball program and the public high schools moving
into new buildings and new gymnasiums. The developments helped to spark a
half-century of achievement highlighted by 13 state championships for Waterbury schools, with various coaches and players adding their accomplishments to a well-established legacy in the city.
In this first of two volumes, author Michael Griffin begins an in-depth look at 50 years of Waterbury high school basketball by presenting a recap of each season from 1970-71 through 1994-95 and integrating stories and experiences shared by former players and coaches. Also including year-by-year listings of team and individual honors as well as looks back even further in time – to the opening of Kennedy's gym in 1965, to the first radio broadcast of a game by WATR, and to the first CIAC title won by a Waterbury school nearly a century ago – this book will inform and delight even the most avid followers of scholastic sports in the city.
Paperback, 172 pages, $22.95